Ions and Electrolytes:
To get a better understanding of the behaviors of electrolytes (during electrolysis), we need to first understand what ions are. The reason is because electrolysis involves the behavior ions in solution.
Simply put, ions are charged atoms.

This implies that ions are formed from atoms.
It is important we know what valence electrons are before we proceed on ions. The instance below summarizes what valence electrons are:
Valence electron(s) is defined as the number of electron(s) in the outermost shell of an atom.

The group one elements (in the periodic table) have got 1 valence electron and will undergo chemical reaction by donating it out to attain an octet or duplet configuration.
Note: Group 1 elements have got one valence electrons, group 2 have got two, group 3 has three and it follows in that pattern through group 7. However, group 8 have got eight valence electrons, except for helium which has two.
The image below shows the chemical reaction between sodium atom, (a group 1 element) and chlorine atom, (a group 7 element):

Image Credit: Quora
Please read on Periodic Table and Classification of Elements here.
Regarding elements with 1 valence electron, it will require lesser energy to give out its 1 electron towards attaining stability (octet configuration) rather that accepting 7 electrons.

In fact, no element in the periodic table will donate or give out 7 electrons to begin with.

Please read on Elements and Characteristics of Elements here.
Note: Chemical stability is achieved when an element has 8 electrons in it's outermost shell (called octet configuration). In Hydrogen and Helium atoms, chemical stability is achieved when they have 2 electrons (called duplet configuration).
A positively charged ion is called a cation and it's formed when an atom donates electron(s) in chemical reactions.

Sodium atom (Na) will give out its 1 valence electron to form sodium ion (Na+). Please see the diagram above.
Conversely, group seven elements (of the periodic table) have 7 valence electrons and will undergo a chemical reaction by accepting one electron to attain an octet configuration.
A negatively charged ion or anion is formed whenever an atom accepts electron(s).

Chlorine atom (Cl) will accept 1 electron from a group 1 element (e.g sodium) to for chlorine ion (Cl-).
You can read on Dalton's Atomic Theory and its Modifications here.
Note: An octet or duplet configuration is a state whereby atoms or ions have the maximum of eight or two valence electrons. They are stable as a result and do not need further reaction with any other element.
In short, all elements undergo chemical reaction in order to attain the octet or duplet configuration.

If the attainment of an octet or a duplet configuration is achieved via the transfer of electrons, then an ion will be formed.

Chemical reactions or bonds that involves the transfer of electrons are termed ionic or electrovalent bond.
Types of Ions
We have 2 types of ions. They are:
1. Cation
A cation is a positively charged ion. Examples are Na+, H+, K+, Mg2+, Ca2+ and so on. They will move to the negative electrode during electrolysis.
The negative electrode in electrolysis is referred to as the Cathode. Therefore, the cations migrate to the cathode in electrolysis.
2. Anion
An anion is a negatively charged ion. Examples are Cl-, F-, O2- and OH-. They will move to the positive electrode during electrolysis.
The positive electrode in electrolysis is referred to as the Anode. Therefore, the anions migrate to the anode during electrolysis.
You can read on the Physical and Chemical Properties of Acids here.
What are Electrolytes?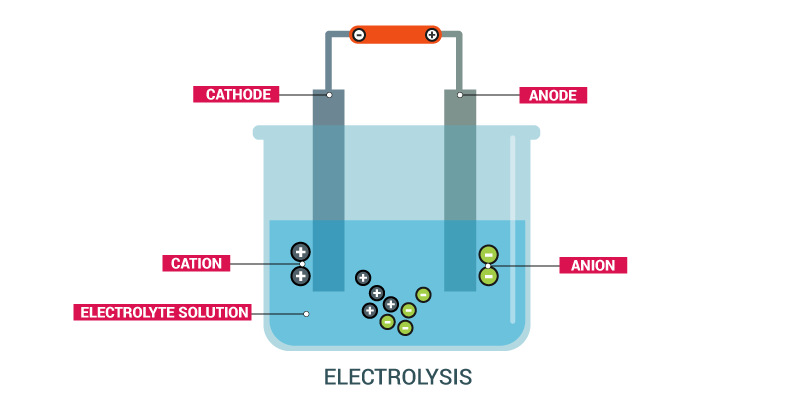 Image Credit: Byjus
Electrolytes are defined as solutions or molten compounds or paste like compounds that conduct electricity. Examples are brine (a concentrated solution of sodium chloride) and calcium hydroxide or Ca(OH)2.
Electrolytes are composed of ions.

The ions that makes up an electrolyte are always dissociated during electrolysis.
Note: Solids that conducts electricity are called conductors.
Please read on the Physical Properties of Metals here.
During the process of electrolysis, electrolytes will dissociate into its constituent ions; and will migrate to their respective electrodes when an electric current is passed through it. This process of dissociation is summarized in the ionic theory.
The strength of dissociations of the ions present in an electrolyte will determine whether the electrolyte is strong or weak.
Types of Electrolytes
We have 2 types of electrolytes. These are:
1. Strong electrolyte: They dissociate completely into their constituent ions when electricity is passed through them.
Example of strong electrolyte are KCl(aq) (potassium chloride) and Ca(OH)2(aq) (calcium hydroxide).
2.Weak electrolyte: They dissociate partially into their constituent ions when electricity is passed through them.
Examples of weak electrolytes are Ethanoic acid (CH3COOH) and Mercury chloride (HgCl)

Please read on the Introduction to Hydrocarbons and Organic Chemistry here.
---
THANKS FOR READING - Please Help Share!
---
Alfred&nbspAjibola is a Medical Biochemist, a passionate Academician with over 7 years of experience, a Versatile Writer, a Web Developer, a Cisco Certified Network Associate and a Cisco CyberOps Associate.