Tropical Rainforest:
The tropical rainforest (also spelt as tropical rain forest) is considered as one of the major biomes of the world. Other biomes include savanna or grassland, desert, swamp forests, afro-alphines and montane forests.
Recall that a biome, also called a biotic community refers to the largest natural community of different organisms interacting and living in the same environment.
Please read more on the Concept of a Biome here.
Interestingly, the tropical rainforest ranks among the biome with the largest biotic community. Their biotic (living) community ranges from the colorful species of birds, the tall and gigantic trees, millions of insects, numerous species of reptiles and so on.
Although the tropical rainforest accounts for only 6% of the solid solid part of earth (lithosphere), it serves as a home to about 80% of the world's recognized specie of animals.
The tropical rainforest which is popularly known for its characteristics heavy downpour (rainfall), tall canopy trees and variety of animal species is located in the tropical regions (tropics) around 28o North and South of the Equator between the Tropic of Cancer and Tropic of Capricorn. These regions of the equator include:
Amazon Basin of South America
Coasts of West Africa
Zaire Basin of Central Africa
Central America and Mexico
Australia
Pacific Islands
Within Malaysia
You can read on the Swamp Forest Biome here.
Below is an image of the Tropical Rainforest: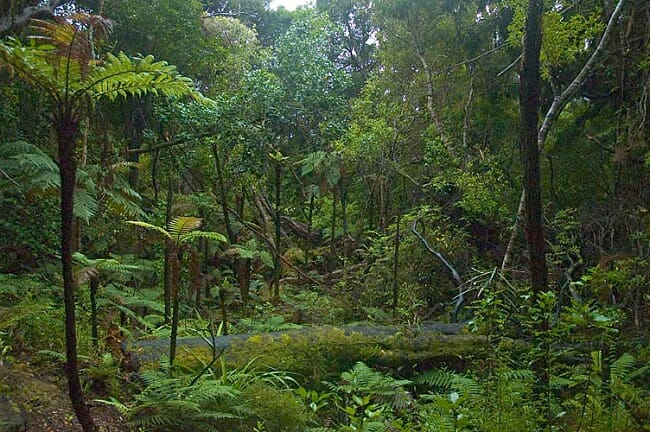 Image Credit: Biology Dictionary
Please read on the Characteristics of Tropical Rainforests here.
The temperatures of the tropical rainforest can be very wet and hot at different times. It is believed to habour the oldest types of vegetation (to this day) on terrestrial ecosystem. Regardless, the rainforest still continues to evolve and change, such that the present tropical rainforests may be slightly different from its past composition (in terms of vegetation and organisms dwelling in them).
Please read on Tropical Savanna and Temperate Savanna with their Characteristics here.
Note: The tropical rainforest is crucial to man's survival. This is summarized in their importance below:
Importance of Tropical Rainforest
The importance of tropical rainforest is the same thing as its functions or benefits. They are highlighted below:
They serve as a natural reservoir for important medicinal plants.
Please read on the Differences between Plants and Crops here.
They generate a significant amount of earth's oxygen through the photosynthetic activities of its numerous plants.
Please read more on the Functions of the Atmosphere here.
They provide valuable forest resources like timber (which can be used for construction, building and furniture making).
Please read on Hardwood and Softwood with their Characteristics here.
They remove a significant amount of carbon(IV)oxide from the atmosphere. This function acts as a check to earth's global warming.
The act as buffer against flood, droughts and water erosion.
Please read on Erosion here.
Its trees acts as agents of wind break. This function prevents wind erosion in nearby farmlands.
Its dense vegetation acts as buffer against flood and water erosion by holding back the flow of water.
---
THANKS FOR READING - Please Help Share!
---
Alfred&nbspAjibola is a Medical Biochemist, a passionate Academician with over 7 years of experience, a Versatile Writer, a Web Developer, a Cisco Certified Network Associate and a Cisco CyberOps Associate.